SYL's Botboards
AI (artificial intelligence) is the simulation of human intelligence processes by machines, especially computer systems.
With the unsavoury and alarming statistics repeatedly obtained from the Nigerian Public education institutions about the plummeting standards, it has become necessary to seek a technology based remedy at a commensurate scale. The most recent technological adoption for finding that remedy is Artificial Intelligence (AI).
Strategies and Yields LTD (SYL) offers an incredible outlet to augment the existing basic/tertiary education systems with Artificial Intelligence by deploying our custom AI based learning devices, BOTBOARDs, for Basic and Tertiary Education Institutions in Nigeria.
The BOTBOARD is an AI powered display device, a core component of a robust AI based e-Education enterprise system, which promises to deliver an automated, impactful and effective learning experience for school pupils and students.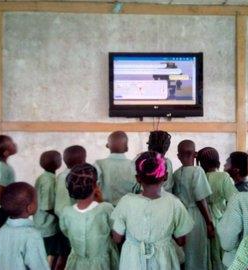 ---
How it works
The teacher will find BOTBOARD a ready practical and useful teaching aid while the pupil will find it lively and explanatory.
Aside from its own database, the BOTBOARD also serves as an intelligent knowledge directory from multiple filtered sources on the internet. The knowledge content may be presented as texts, graphics, sounds, images, videos, charts, animations, or a combination of any sort.
The BOTBOARD is interactive and speech enabled. This means it can receive speech commands (Speech-to-text) and also respond audibly, and intelligibly (Text-to-speech).
When deployed, BOTBOARDS have the capacity to enrich learning experiences in ways never previously imagined by giving life and meaning to learning objects via rich two-way interactions, calling up relevant videos when engaged, and even sublimely performing student evaluation during conversations.
In the same vein, the BOTBOARD may be deployed as a virtual teaching assistant for teachers during a classroom session, helping with relevant illustrations, diagrams, videos or charts, by simply "listening" to the course of the discussion.
When required, the BOTBOARD may be utilized to serve as a data capture tool. For example, pupils' feedback on any subject matter may be harvested by simply enabling conversations with pupils that makes requests about the subject matter.
The BOTBOARD is designed with renewable energy in mind. The choice of technology (energy efficient devices) makes it possible to have the solution deployed as independently solar powered units.
---
Some Interesting Features
Our AI platform (BOTBOARD) once deployed presents the following features and functionalities:
The ability to politely and intelligently to provide filtered responses to requests about any subjected matter to primary and secondary school pupils and students during or after school hours, as curated by teachers or admin.
The ability of the BOTBOARD to relay unknown, known or interesting requests to the appropriate respondents for necessary follow-up via text messages, email or instant notification.
The ability to provide pointers and navigation services to pupils within any school facility, location, establishment or unit. E.g. Pupils may ask it "where is the closest Toilet?".
The ability to provide latest news and updates of events within the school, region or state as appropriate or applicable.
The ability to provide latest news and updates of events within the school, region or state as appropriate or applicable.
Support for Multi-Language requests e.g French, Spanish and German
Provision of an administrative and analytics dashboard for audits, controls and access control
Built-in Speech-to-Text and Text-to Speech capabilities
---
Benefits of BOTBOARDs
Amongst many benefits, the chatbot helps Nigeria quickly optimize the benefits of artificial intelligence (AI) technologies in the area of education which includes:
Personalized access to quality learning: The BOTBOARD makes the classroom experience better than before! The adoption of BOTBOARD in classrooms will give each child, with their often diverse and very unique needs, a fair and balanced access to quality education and learning, irrespective of the gaps in terms of learning capabilities, temperament, teaching skills and competence. For instance, The BOTBOARD, by adopting relevant machine learning algorithms, is able to understand the style of learning of a pupil and also gauge the amount of knowledge that the child has from conversations, as well as automatically making suggestions on suitable learning paths.
Powerful Teaching aid and Evaluation Support System:The BOTBOARD can be programmed or trained to provide teaching aids on any subject matter. While not replacing teachers, the BOTBOARD serves as a powerful system to provide an all-round support for teachers during classroom sessions.
Special Children Support System:The BOTBOARD is able to help Pupils with special needs, like the visually or speech impaired opportunities to learn seamlessly with their colleagues without a need to provide special facilities for them.
Teaching at scale: In the absence of a teacher of an important subject, the BOTBOARD is able to serve as a make-up teacher. For examples, the Botboard may be programmed or trained to teach a Foreign Language, or perhaps Robotics, in the absence of a qualified teacher to a large number of student, or repeatedly without the fear of fatigue. Teachers may also be empowered at scale using the same medium.
Constructive meaningful feedback to the pupil and teachers: Most children are shy or timid to ask questions in class from their teachers. However, with the help of a BOTBOARD, pupils can freely talk to the device and it would answer questions from their curious intelligent minds! In turn, teachers may also get meaningful feedback from the conversations (data) generated by the pupils.
Creation of global classroom for the child: With the BOTBOARD, Pupils can interact with other pupils from other parts of the world! The BOTBOARD may switch to the "TeleTeach Mode", allowing for live connection with any other device anywhere in the world. This makes the learning process ever more versatile, diverse and fun.
It makes teaching and learning more interesting and engaging:It can give children an immersive experience that can get children hooked and interested in a particular subject. For example, domains rooted in science, technology, engineering and mathematics i.e STEM (e.g space exploration, robotics, genetics engineering etc) may be introduced early to the pupils with the Botboard. This will encourage children to be very creative and develop themselves, especially in the areas of technology, having gained the right foundation.
For more Information, Please call Tosin on +234 8038 615 445 or
lets start a chat!